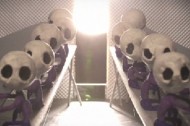 DreamStates: Malin Akerman Animation by //kneeon
Malin Akerman is a Swedish-Canadian film actress and model. She has appeared in such films as Watchmen, The Heartbreak Kid, 27 Dresses, Couples Retreat, The Proposal and The Romantics. She is featured in the upcoming film Bang Bang Club about combat photographers and will also star opposite Tom Cruise in the film adaptation of Rock of Ages.
Malin took the time to sit down with us for an interview for our new animated web series, DreamStates, talking about a very disturbing dream she had. DreamStates takes a look into our dreams through the eyes of creative innovators from the worlds of music and film. In Malin's dream she hears her mother get killed and is then stabbed by the killer until "everything goes black". After "awakening" – she is faced with the choice of saying goodbye to her father or heading towards the "light". Along the way she gets some help and guidance from old family and friends. Scary.