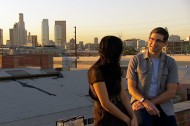 Josh Dorfman during the filming of "The Lazy Makeup Artist."
Season 2 of THE LAZY ENVIRONMENTALIST airs Tuesday, April 20 at 8PM E/P.
Often we forget that as human beings we are still mammals. We too are part of the environment. The environment is not just something that exists "out there" where the trees grow, the snow falls or the rivers run. We are nature as much as a tree or flower is nature. So naturally, how we treat ourselves has implications for the health of the planet.
I realize this is can be a major leap in logic for a lot of people. We're not used to thinking of ourselves in this way. But just as we are concerned about the rising mercury levels in fish populations around the world, so too would be wise to be very concerned about the rising mercury levels – and levels of other toxins – in our own bodies. It's both an environmental challenge and clearly a health challenge.
On this week's show I take on an exterminator and a make-up artist. The issue with the former is spreading poisons around our house. The issue with that latter is spreading poisons all over our face. So while these are very much environmental challenges, the best way from my experience that I've found to get people to gravitate toward green choices in these areas is to play up the health implications.