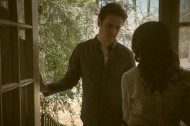 Luke Kirby, who plays Jon Stern on RECTIFY, talks about the lawyer quote that helps him get into character and his foraging hobby.
Q: Jon's job seems to be about managing personalities and playing politics as much as it is about knowing the law. Does that make the gig more fun for you?
A: Yeah, I have a kin for that kind of thing. I'm drawn to or intrigued by politics. I'm not the most litigious person, I didn't study in law, but it's very revealing and there's a ton of stuff out there on this. It's an ongoing education for me. I guess the things that stuck out immediately for me is the time and money that's required to get anything done in the wheels of justice. There's a lot of grease necessary to keep it in motion.
Q: Do you think you'd have to same resolve to see a case like Daniel's through if you were in Jon Stern's place?