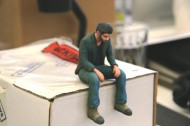 I know for a fact that most of you have not finished (or even started) your holiday shopping due to that deadly virus known as procrastination. Well I'm here with a few unique gift suggestions for your impossible-to-shop-for loved ones.
1. For your "foodie" chef who is also obsessed with designers' trendy incorporation of brass knuckles, I recommend this brass knuckle shaped meat pounder.
2. One of my favorite online memes to emerge has been the Sad Keanu Reeves meme, and if you're shopping for a "Redditor" or someone who hasn't met a meme they didn't like (hint: me), then this toy model of Sad Keanu Reeves is perfect.