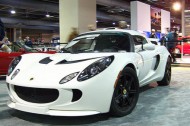 Lots of news on the car front this week, plus electronic paper, and a (partially) green-powered STAR TREK theme park in Jordan (yeah, Jordan).
Lotus' wine and cheese-powered car: Okay, not exactly, but the British automaker's Exige 270E Tri-fuel concept can do 0-60 in under four seconds on ethanol made from "undrinkable wine (whew!), whey (a byproduct of making cheese), and surplus chocolate." Check it out in action above. (via The Discovery Channel)
Ford getting into the solar business? Kind of. They're partnering with SunPower to offer future buyers of the company's planned electric vehicles a rooftop solar system that could power the car completely on renewable energy.