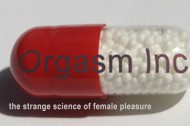 I probably know less about female orgasms than anyone on the planet—even former boy band members–but Liz Canner knows a lot about them, even more than pharmaceutical companies do.
In fact, when she took on a job editing erotic videos for such a company's drug trials in their attempt to market a female Viagra, Canner's intellectual G spot was awakened and she realized the bizarre situation she'd landed in needed to be a documentary.
The strongly executed result, Orgasm Inc, is an alarming look at the way big business tries to manipulate the public by creating diseases, then marketing the supposed cure.
On the eve of the film's February 11 opening in New York and Chicago (before it goes to L.A. and DVD), I spoke with Canner about her orgasmic achievement.