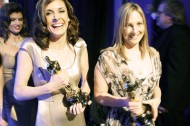 Oscar-winning documentary director Cynthia Wade.
On May 17th, Sundance Channel will screen LIVING LEGACY: THE UNTOLD STORY OF MILTON HERSHEY SCHOOL which follows three young students as they separate from their parents and enroll in Milton Hershey School, a residential school in Pennsylvania. The film follows the children during their first school year – a turbulent, dramatic and eye-opening experience for the students and their families. Director Cynthia Wade speaks with Sundance Channel about her experience working on this film.
SUNDANCE CHANNEL: What first drew you to the story of Milton Hershey School?
Wade: I'd recently finished FREEHELD, a 38 minute film (which won the Academy Award for Best Short Documentary in 2008 and 15 other film festival awards). I was directing another short documentary in Cambodia (BORN SWEET, which won Honorable Mention at the 2010 Sundance Film Festival). With those two short films as my latest endeavors, I was eager to move back into long-form documentary and direct another feature-length film.
It's a completely different experience directing a feature-length film, as it demands so much more material, time, patience, and energy — think "marriage" as opposed to "long term relationship." I was ready for another "film marriage." When I was approached by the Milton Hershey School as a director for this project, I jumped at the chance. It was exciting to think about staying with a project on a long-term basis, following characters over an extended period of time.