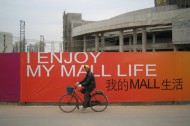 UTOPIA IN FOUR MOVEMENTS.
Love it or hate it, AVATAR has revived for many audiences the old-fashioned notion of movies as a social experience. Billed as a "live documentary," Sam Green's UTOPIA IN FOUR MOVEMENTS does effectively the same thing, on a smaller scale but with bigger ideas. Performed twice at the Sundance Film Festival this week as part of the New Frontier section, this was a charmingly homespun cross between a "benshi" silent-film show and a PowerPoint presentation: Green stood before the audience, narrating and cuing still and moving images while three musicians performed a score by co-director Dave Cerf.
As in his Oscar-nominated THE WEATHER UNDERGROUND (Sundance 2003, co-directed with Bill Siegel) Green sifts through the ruins of extinguished idealism. UTOPIA IN FOUR MOVEMENTS is as much a story of failure as it is one of hope.