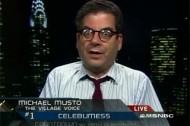 I've spent half my adult life appearing as a talking head on various TV channels, so by now I have the art of on-camera gabbing down to a T and know just what to do, what to avoid, and whether to watch the clip afterwards with one eye covered.
Live appearances on cable news are way different than pre-taped ones (like "101 Celebrity Meltdowns" or "The Fab Times of Lindsay"), so I'll separate them in offering my unsolicited but extremely useful advice to anyone brazen enough to want to join the unpaid talking head population.
For live shows:
*Have your first answer ready. The worst thing imaginable on live TV is dead air, so you want to avoid ever pausing to think or stammering stuff like "Um, uh…" If your first answer doesn't match the first question, then say it anyway—and make it match the question.
*Speak in four or five sentences at a time, trailing off when you've sensed that you've had your say on that particular subject and it's time for someone—anyone–else to speak. Don't be a monosyllabic caveman, but don't monopolize the whole show either. Find a happy medium.