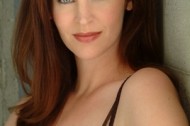 Behind the Burly Q, a look back at the glory days of burlesque from writer/director/producer Leslie Zemeckis, fascinatingly strips away at the myths surrounding the most popular American entertainment form of the first half of the 20th century. On the eve of the documentary opening in New York on April 23 en route to other cities, I phoned Leslie (whose husband, Robert Zemeckis of Forrest Gump fame, executive produced the doc) for some burly talk.
MM: Hi, Leslie. How was Behind the Burly Q born?
LZ: I'm an actress and did a show that had elements of burlesque in it. I started to research it and realized no one had done a comprehensive documentary about burlesque, told by the performers. I thought, 'I've got to record this for posterity.'
MM: When you interviewed the former strippers—many of them now in their 80s–did some of them start re-enacting their old competitive patterns?
LZ: Not really. But some wanted to strip again! I thought, 'I'm not sure where you're gonna find a job, but God bless you.' For a lot of them, it was the high time of their life and they wanted to recreate that.