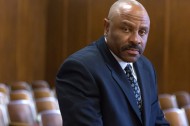 Booker Cole, co-star of LOREDANA, ESQ., digs into his past as a patrol officer for the LAPD and discusses what makes him an integral member of Loredana's team.
SundanceTV: How did you meet Loredana?
BC: I met Loredana several years ago, while I was working as a patrol officer. I was dispatched to Loredana's office to discuss a client issue. The client had been a victim of a crime in another jurisdiction. During our initial meeting I learned that she had been a police officer and she had a thorough understanding of what I could do. I was a licensed attorney at that time and was very impressed with the career transition she had made. Robert, her significant other, was also in the office when I met her. Rocco had not even been thought of yet. We all got along so well that we maintained contact over the years.