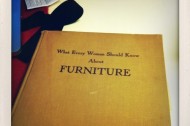 Anyone who knows me knows how much I love furniture. I've worked for several furniture brands throughout my career and I am an avid collector of all things mid-century. I've also blogged for over a decade. This, and Facebook, has allowed me to collect friends via the Internet from all over the globe.
Sometimes people I don't know too well send me gifts. I do the same. This happened last week when a friend names Rob sent me a book called "What Every Woman Should Know About FURNITURE." Written by Jeanne Judson in 1940, the book is mostly pictures of furniture styles of the day. And while half of the fun is the book's camp title, there are some wonderful quotes I feel need to be shared like:
A house without books is a monstrosity. There should be at least one well-filled bookcase in the most lived-in room.
60 years later and I agree with Ms. Judson.