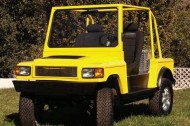 Gardening apps, high-speed rail, and electric vehicles made from electronic waste… this week's green tech finds.
Finnish culture meets green building: Traditional Finnish building involves a lot of wood, and the Luukku House design combines this tradition with solar energy, high-efficiency windows, and other "green" features. The design has won awards from both the Finnish Timber Council and Solar Decathlon Europe. (via Good News from Finland)
Onsite composting for restaurants: GaiaRecycle's new G-30H provides onsite composting for restaurants and schools… no need to have those food scraps hauled away (or — shudders — throw them in the trash).