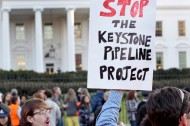 Photo by Emma Cassidy, licensed under a Creative Commons license
Let's face it: Big Oil is used to getting its way. But not today… and we have President Obama to thank for standing up to them in spite of the political risk.
President Obama has just rejected a permit for the Keystone XL tar sands pipeline — a project that promised riches for the oil giants and an environmental disaster for the rest of us.
His decision represents a victory of historic proportions for people from throughout the pipeline path and all across America who have waged an uphill, years-long fight against one of the most nightmarish fossil fuel projects of our time.
But make no mistake: Big Oil is going to fight back hard and fast.