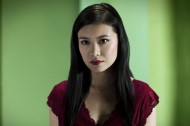 ONE CHILD star Katie Leung discusses sympathizing with lead character Mei, her process for getting into the role and her drastic departure from the Harry Potter franchise.
Q: What originally attracted you to ONE CHILD?
A: I knew ONE CHILD would challenge me as an actor in many ways and that audiences would be affected by the story. It's a rare chance for people to see the emotional struggles of an adoptee and his/her parents. I also fell in love with [writer] Guy Hibbert and [executive producer] Hilary Salmon when we all first met to discuss the project so there was really no reason to say no.