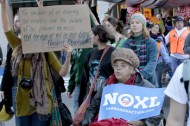 Photo credit: tarsandaction
The Congress is ending the year much as it began — playing politics with our nation's future and putting American families at risk to score partisan points.
In the closing act to a shameful year of paralysis and indecision on the issues that matter most, House Republicans held common-sense tax relief for American families hostage to a holiday gift to Big Oil.
After the GOP-led House welded the Keystone XL tar sands pipeline rider onto the tax-relief bill, the Democratic-led Senate went along for the ride, passing a bad piece of legislation rather than being accused of blocking a needed tax cut.
When the United State Congress intentionally ties these two things together, though, it's not a joke: it's a national disgrace.