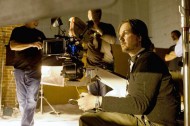 A horror film slash coming-of-age story, Let Me In is the Matt Reeves–directed remake of Let The Right One In, the 2008 Swedish film which was based on the John Ajvide Lindqvist novel about a bullied boy who finds a soulmate in a female vampire. This version, transplanted to 1980s' New Mexico, is a beautiful piece of work, filled with angst, soul, atmosphere, and blood stains.
I phoned Reeves (who did the 2008 hit Cloverfield) and asked him to let me into his process.
Me: Hi, Matt. You obviously love the story of the outcast triumphing. Everyone does.
Reeves: That's only one aspect of the story. It's the outcast finding someone who understands him, but there's a dark edge to the story. He has vivid fantasies of revenge and when they're played out, it's not all victory. There's something chilling about it and there are consequences. I was haunted by the ambiguity. It makes it a powerful horror story. I wanted to make sure that even the bully would be humanized. It's not black and white. There's a potential for evil in all of us.