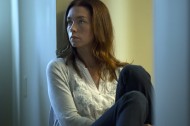 Julianne Nicholson, who plays troubled mom Jean Jensen, tells us why she's particularly honored to have been the first person cast on the show, the scene she found hardest to shoot from Season 1, and what she hopes to do next (hint: It's funnier than you might think).
Q: You were the first person cast for the series. How did that come about?
A: I was sent the script and I just fell in love with it. I went in and met with [show producers] Aaron [Guzikowski] and Bridget [Carpenter] and had a chat about it. I just made it very clear that I loved the show and would love to be part of it. I was so excited to be the first person cast. so often they cast the men first and cast the women to match the dudes. It was a great honor that it happened this way.
Q: What were the challenges in playing such a mentally fragile character? How did you prepare for the role?
A: