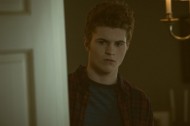 Jake Austin Walker, who plays Daniel's spunky, sympathetic younger half-brother Jared Talbot, talks about the family dynamics on the show (and behind the scenes), his own experience with bullying and when we can hear his next single (he's really good!).
Q: Jared's fascination with his half-brother's case is touching, but it also freaks out Daniel (Aden Young). Did you really have a file of information about the case that you studied?
A: Oh, yeah–on the day that Aden shot that scene, they asked me about the folder and what I wanted in it; it's real. Jared researched it, like a comic book or a movie he just can't get enough of. Personally I think he raided the basement of their house and got all the old newspaper clippings from the case that his mother had hidden to try to put the bad memories away.
Q: Does having siblings in real life help you tap into the dynamics with your half-siblings on Rectify?