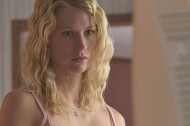 Fans know and love her as Betty (Draper, then Francis) on <em>Mad Men,</em> but there's another side to the actress. If you haven't seen January Jones like this, do yourself a favor and check out some of her best dramatic characters.
1. Lou Ann Norton, The Three Burials of Melquiades Estrada
This neo-Western, Tommy Lee Jones' directorial debut (he also stars), features Jones as the wife of a Border Patrol Agent (Barry Pepper) who shoots and kills a Mexican immigrant cowboy (Julio Cedillo). Rather than fess up, he tries to cover up his crime and is kidnapped for his troubles. Lou Ann, meanwhile, is fed up with him and their life in Texas and decides to leave it all behind and return home to Ohio.