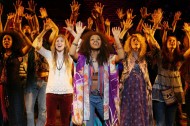 The classic anti-war hippie musical of the 1960s, Hair, won't stop growing! After a Central Park revival scored three years ago, it moved to Broadway and won a Tony award, and now it's back there again in the same production, but with some new cast members and fresh energy.
I just called the show's legendary cowriter, James Rado, to untangle exactly what's going on here and throw some conditioner on it.
Me: Hi, James. Is the show's anti-war message still relevant?
Rado: Very intensely. People want to think about other things in our mutli-faceted culture that offers so many distractions, but this thing of war still hangs over us. It plays to that part of our consciousness.