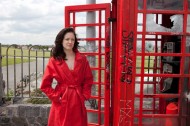 The opening salvo was fired on Nov. 18. The Academy of Motion Picture Arts and Sciences released their short list of 15 films for the Best Documentary Oscar, and many in the industry were up in arms. Where was THE INTERRUPTERS? No SENNA? Then, the actual nominees for the Academy Award for Best Documentary were announced on Jan. 24, and people were appropriately outraged.
One of the biggest snubs was PROJECT NIM, the poignant doc by Oscar-winning MAN ON WIRE filmmaker James Marsh about Nim, a chimpanzee who in the became the focus of a groundbreaking experiment in the 1970s attempting to teach apes to communicate. For a time, Nim was even raised in an apartment on the Upper West Side of Manhattan.
Following MAN ON WIRE and PROJECT NIM, James Marsh is back at the Sundance Film Festival with SHADOW DANCER—a brilliant IRA drama set in 1990s Belfast about a young mother, played by Andrea Riseborough (in a spellbinding performance), who is forced to collaborate with an MI5 officer (Clive Owen) and act as an informant spying on her own brothers. The slow-burning thriller is already garnering comparisons to TINKER, TAILOR, SOLDIER, SPY, and is one of the best films to screen at the 2012 Sundance Film Festival.