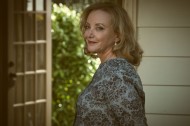 J. Smith-Cameron–who plays Daniel's mother, Janet Talbot, on RECTIFY–knows a thing about being a mom. And not just onscreen. Here she shares her insights about Janet's outfits, her mothering style and her own signature dish (hint: It's not pecan pie).
Q: Janet always seems on the verge of breaking down or bursting into tears. How do you maintain that kind of emotional tension?
A: That's one of the challenges of the part. She does put a lot of energy into keeping it in, keeping that wall up, yet maintaining some kind of grace. She's got a lump in her throat at all times; it's her coping mechanism. This show is an actor's dream–the man who created it, Ray McKinnon, is an actor as well–and that's definitely written into the part.
Q: She has these very put-together outfits, and she often seems to be clutching her purse. Do those physical details help define the character for you?