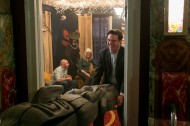 Production designer Hugh "D.G." Moody talks prison sets, contributing to character backstories and hiding Easter eggs.
Q: Is there any overarching design philosophy on RECTIFY that you keep in mind at all times?
A: Primarily the muted color palette and realistic locations. The show's hyperrealistic, so sometimes we find locations and they're just perfect. Most of the time, they're not quite right. Sometimes you don't know what exactly's not right about it, but after you spend some time in the space you can usually identify it and identify how to change it to fit the world we're trying to create.
Q: You're responsible for every last detail of people's living spaces. How do you figure out each character's taste?