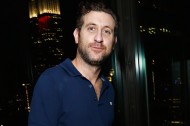 SundanceTV's new series, inspired by New York magazine's pop culture roundup, is premiering Mon., Aug. 11 at 11/10c. To prep, we spoke to showrunner Rory Albanese (The Daily Show) about "showbiz," working with host Neal Brennan and how it feels to win an Emmy.
Q: How does THE APPROVAL MATRIX show expand on the original New York magazine back-page grid?
A: Mainly because the original version is in a magazine and this one is on the TV. Also, this version is hosted by the hysterically funny and super duper brilliant Neal Brennan, and I don't use the term "super duper" lightly.
Q: What are you most excited about on the show?
A: I'm most excited about the field pieces that I was a correspondent in. Because this will without a doubt be my one-way ticket to super duper fame and a lifestyle equivalent to that of Leonardo DiCaprio. In fact after these shows air, I'm guessing Leo and I will become best friends and spend all of our free time on yachts covered in models. Thank you, SundanceTV, for turning my life into one of riches and b*tches. (Apparently I use the term "super duper" more than I realized).
Q: How did you meet host Neal Brennan? What makes you a good team?