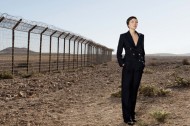 THE HONORABLE WOMAN's costume designer Edward K. Gordon talks about the challenges in dressing a character as complex as Nessa Stein, which designers she wore and the secret to "getting the Stein style."
Q: Some of your past credits include Skins and Secret Diary of a Call Girl – projects that have very different feel from THE HONORABLE WOMAN. What have been some of the best practices you've carried over from project to project? What are some of your initial steps when embarking on a new project?
A: For me, the work always starts with the script. If I am lucky enough to be presented with a great script, with characters that I believe/relate to my job, it is easy and all I have to do is honor the writing. Although I have done a varied body of work through my career, I bring the same aesthetic dogma with me to all my work. My ambition is always to present characters on screen in a way that might not be quite what people were expecting. I really believe in the power of clothes to help tell a story, and I am fortunate to work in a visual medium. With each great new character I try to create a look that is distinctive and unique to that person—although grounded in reality and truth there is always a slightly aspirational look to the way I dress people. Just to mix things up even more, the next job I'm doing is War and Peace for the BBC and Harvey Weinstein!
Q: Looking to the pilot episode, that initial green-cheetah print dress is definitely a statement piece—especially when you consider the juxtaposition Nessa's character has against the rest of the cast. What motivated that style choice? The dress also seemed to linger though the episode, as Nessa simply didn't change her clothes—can you speak to that?