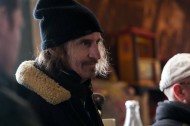 RECTIFY creator Ray McKinnon discusses fascinating characters, the South and the silver lining of life on death row.
Q: A lot of characters persecute Daniel, but the show always seems to give us a chance to see things their way. What's the key to finding that balance?
A: I certainly think a lot of characters have made judgments and have prejudices and preconceptions about Daniel… persecution's a little too strong of a word. But the other words that I used feel appropriate to the characters, when I think of Teddy, or even Bobby Dean in a way. And I don't know about balance, but as far as seeing things their way, I think if you're trying to create three dimensional characters, each character like human beings have a subjective viewpoint of the world, and that's what we tried to understand better. Teddy's a great example of that, trying to understand what motivates Teddy, how he sees the world. He sees the world differently than Daniel. I think Teddy believes in law and order, or he did certainly in the first season. I think that has changed over time. But if they say Daniel did it and Daniel went to a jury and the jury found that he was guilty then that's what Teddy believes is the truth, and so Teddy goes about his life verifying things he already believes in, affirming that, and when those things get challenged it's very difficult for Teddy to deal with that. So I think the balance maybe you're talking about is trying to make the characters not two-dimensional but three dimensional, where they have a point of view and oftentimes–even with Teddy–that point of view could be valid. Because Daniel could have killed Hannah Dean. We don't know that answer yet.
Q: Do you sympathize with all the characters that much, or are there exceptions? Senator Foulkes… or Trey?
A: I don't know if I sympathize with Trey, but …