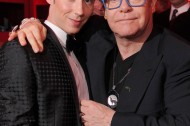 Johnny Weir and Sir Elton John attend the 18th Annual Elton John AIDS Foundation Oscar party in March 2010
Throughout June and July, Johnny Weir will be blogging with us right here on SUNfiltered. Johnny will share his thoughts on life post the Olympic Games, what he's been up to and where he's off to next. Also be sure to catch the season finale of BE GOOD JOHNNY WEIR on June 27 right here on Sundance Channel and follow us on Twitter (@SUNfiltered) for all the latest Johnny updates.
What a busy spring I have had! I've been running from award shows and recording sessions to book meetings and skating practice. Life hasn't slowed down for me one bit since the Olympic Games. Dying to see me in action? Well, tune in on June 27 at 10PM for the season finale of my reality series BE GOOD JOHNNY WEIR right here on Sundance Channel (shameless plug, couldn't resist).
Since I've been spending so much time on the road and doing fabulous things I figured I'd list some of the things I'm looking forward to the most just to give my amazing fans an inside look into what is coming up.