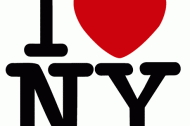 I sat down with Milton Glaser last week. Not only am I working with Milton at my day job, I also recorded our conversation for Dwell too. Meeting legends typically don't phase me. I've met them all from design icons to rock gods. But Milton is the quintessential New Yorker. It was quite a joyous event for me. The below statement about "I Love New York/I Heart New York" was particularly fascinating for me as he not only explained it's design inspiration, something I'd never heard, but also explained how ubiquitous the statement had become. It's a fun read:
I am sure you have answered this about a million times, but I have to ask about "I Love New York" or "I Heart New York." I don't even know what to call it! Love or heart?
What you may not realize that is that the heart, a symbol used as a verb, has now entered into the Oxford English Dictionary. This happened a couple of weeks ago. So heart is now a verb. It entered with an acknowledgement that "I Love New York" was the manifestation that did it, the first symbol ever to enter the Oxford Dictionary. You can call it either one as both are correct.