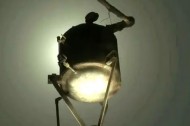 eople-powered gyms, transmitting from turtles in Illinois, and combining flies and poop for good use… your green tech finds for the week.
The open-source solar concentrator: Designer Eerik Wissenz claims that his Solar Fire open source solar concentrator concept can harvest power at ten times cheaper than photovoltaics. Check it out in the video above… (via Earth Techling)
New university trend — the human-powered gym: Powering exercise and recreation facilities with energy harvested from workout equipment is catching on at universities… the Sustainable Cities Collective takes a closer look at Drexel University's approach.