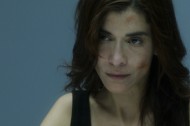 Can't wait to find out what happens on the series finale of THE HONORABLE WOMAN, Thu., Sep. 18 at 10/9c? Instead of staring at your calendar, sign-up to receive a reminder, then check out these thirteen ways to go deeper into political thriller.
1. Watch video interviews with THE HONORABLE WOMAN star Maggie Gyllenhaal (Nessa Stein) as well as Andrew Buchan (Ephra Stein), Stephen Rea (Sir Hugh) and Janet McTeer (Dame Julia).
2. See photos from every THE HONORABLE WOMAN episode as well as surveillance photos of the characters, the Stein Family photo album, and behind-the-scenes photos with Maggie Gyllenhaal, Andrew Buchan, Janet McTeer, Hugo Blick…
3. Quizzes for every episode as well as cast members Maggie Gyllenhaal, Andrew Buchan and Stephen Rea.