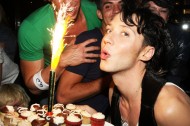 Maybe just one cupcake. A girl's gotta watch her figure! Photo by Moises De Pena/WireImage.
Johnny's back! Be sure to follow us on Twitter (@SUNfiltered) for all the latest Johnny news and updates.
Damn, it's hot. I can't get over the heat of the summer; maybe it's global warming, but, in my twisted little mind, summer is when people's inner sexiness starts to reappear, and that's why it gets hot. The shirtless-ness, the bikinis, the sky-high stilettos of the drag queens…it's amazing.
My summer has been insane. The season finale of BE GOOD JOHNNY WEIR was a huge hit, thank you for watching. The episode left a lot of people guessing about what's next for me, and I suppose all I can say is wait and see, that's what I'll be doing too.