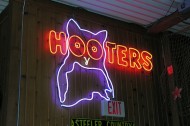 Having a bad day? Don't worry, this week the news is light and airy: panda inseminations, professional mermaids, Hooters Heismans and creepy cuddle phones, yippee!
Apparently, your dating success depends on how you use pronouns. Funny, we thought it ha to do with appearance, hygiene, education and sense of humor.
In no duh news: Park Slope says no to a Hooters.