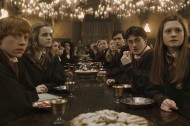 It's not like high school isn't strange enough as it is. Add a little supernatural seasoning and you get TV shows and movies where high school gets downright spooky-weird, which makes for great angst-filled horror stories.
1. Hogwarts School of Witchcraft and Wizardry, Harry Potter (2001-2011)
"Oh well, what's life without a few dragons?"
It should come as no surprise that a school dedicated to the education of young witches and wizards would be filled with magical goings-on, including a whomping willow tree on the grounds (never mind an entire forbidden forest). But things got extra-strange when the Boy Who Lived enrolled. Basilisk in the basement? Check. Boggarts in the classroom? Oh yes. Centaurs, Dementors and ghosts? Of course. Even the climactic standoff, where numerous witches and wizards on both sides perished, is dubbed the Battle of Hogwarts.