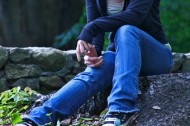 A new study out from the CDC shows that herpes is twice as common in women than men, and three times as common in blacks than whites. A massive 48% of black women are infected. We called on Dr. Vanessa Cullins, an obstetrician/gynecologist and vice president for medical affairs at Planned Parenthood, to get the story behind these depressing statistics.
Em & Lo: Can you briefly explain the difference between HSV-1 and HSV-2, and how they are related to oral vs genital herpes?
Dr. Cullins: Herpes is a very common infection caused by two different but closely related viruses — herpes simplex virus type 1 (HSV-1) and herpes simplex virus type 2 (HSV-2). Both are easy to catch. They remain in the body for life, and can produce symptoms that come and go. Both forms of herpes can infect the oral area, the genital area, or both. When the infection is on or near the mouth, it is called oral herpes. Oral herpes is caused most often by HSV-1. When herpes infection is on or near the sex organs, it is called genital herpes. Genital herpes is caused most often by HSV-2.