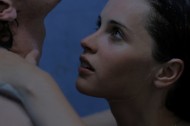 Sometimes, love is all you need.
"Watching two movies in a row in which adolescent girls cut their bodies with a razor was a reminder of all the dark places the Sundance Film Festival takes you," writes Ruthe Stein in the San Francisco Chronicle. "This time there were movies featuring drug addicts, abusive cults, a drunken driver who wipes out a family and Saddam Hussein's sadistic son."
Stein says she found "a welcome reprieve" from all that in three festival movies about love: Drake Doremus' LIKE CRAZY, Braden King's HERE and Miranda July's THE FUTURE.