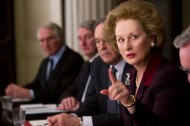 In "The Review Revue," we turn dozens of movie reviews from all over the Internet into one handy blog post. It's like super-concentrated orange juice for film criticism (with less pulp and Vitamin D). This week: Meryl Streep stars as Margaret Thatcher in THE IRON LADY.
There are few metaphysical certainties in this world. I only know of three: death, taxes, and annual Oscar talk about Meryl Streep. Streep has won two Academy Awards (for KRAMER VERSUS KRAMER and SOPHIE'S CHOICE) and received a record sixteen nominations, including three in the last four years for THE DEVIL WEARS PRADA, DOUBT, and JULIE & JULIA. Her latest film, THE IRON LADY, has Streep the focus of renewed Oscar buzz, and could easily bump her career total to an even more astonishing seventeen nominations. The title of the film refers to the nickname of Streep's character, former British Prime Minister Margaret Thatcher. It — and its star's incredible award track record — suggests a nickname for Streep: The Gold Lady.
But was The Gold Lady's performance good enough to win over the critics? Or was THE IRON LADY's reputation less than sterling? Let's find out.