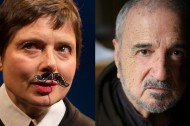 GREEN PORNO director and star Isabella Rossellini and legendary screenwriter Jean-Claude Carrière (The Discreet Charm of the Bourgeoisie, The Unbearable Lightness of Being) teamed up to bring the outlandish web series to the stage. Below, the two collaborators further explore what it takes to bring the quirky sex lives of animals out of the bedroom and onto the stage.
Q: Do you have a desire to push the boundaries of what an audience expects from a stage show?
Isabella Rossellini: I wanted the element of surprise, but not of shock. I see myself as a clown, as an entertainer. Basically, this is what I was trying to reach: to entertain people for an hour and fifteen minutes. And if they go away and say, "Oh, well, I learned something also, and that was interesting," that's even better. That's the cherry on the cake. But we didn't want to be controversial.