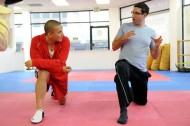 Josh Dorfman gives advice to professional martial arts athlete Jason Moontasri in Season 2 of THE LAZY ENVIRONMENTALIST
Season 2 of THE LAZY ENVIRONMENTALIST premieres Tuesday, April 20 at 8PM E/P.
Over the next couple of months, I plan to share some thoughts here based on the upcoming season of "The Lazy Environmentalist." In many ways, Season 2 has enabled me to bring to fruition the goals I'd set seven years ago when I founded Vivavi, a modern design, green products retail company, to rebrand environmentalism as appealing and attractive. To do so you've got to have outstanding green solutions. You've also got to be able to frame those choices in ways that get environmental skeptics — and the otherwise apathetic or indifferent — excited about them.
To achieve the former you've got to know where to look and you've got to count on green entrepreneurs to constantly improve their products and services to the point where they pass my green litmus test: would people want them even if the products and services weren't green. To achieve the latter, I've had to do a lot of reflection about what really makes people tick and what gets them excited — or at least somewhat enthusiastic — about embracing new choices. In other words, I've had to a lot of thinking about how to present green choices so that people perceive them to be in their own self-interest. It's not my environmental values that I'm trying to impose on others. Instead, it's getting them to see that their own self-interest is best served by the best green options available today.