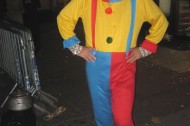 Photo credit: Linda Simpson
Halloween is terrifying! It brings swarms of normally well behaved adults into the streets, where they stomp around oozing pus and looking like ghouls—and some of them aren't even in costume.
This year, October 31 falls on a Saturday, so the terror alert will be even higher in scary-enough New York City. That's the night the bridge-and-tunnel people invade Manhattan every week for low-budget thrill seeking, and anyone sane double bolts himself inside his apartment while ritualistically throwing garlic out the window. As a B-and-T person myself (I'm from Brooklyn), I know just how crass and awful these people can be. And when you add vampire fangs and Sarah Palin drag on them—not mutually exclusive motifs, by the way–the effect is even more chilling than the SAW series.