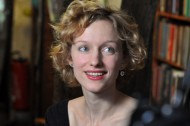 Born and raised in what has been called a "socialist utopia masquerading as a bookstore," Sylvia Whitman inherited the proprietorship of Shakespeare & Company from her father who opened it in 1951. As tribute to his memory, she carries on George Whitman's tradition of supporting writers and other travelers who stop to sleep in the legendary, Parisian landmark.
Dive into magical memories of fairy tales, beat poets and Paris' Left Bank when BEGINNINGS sits down with Sylvia Whitman, bookseller.
Get the backstory on more icons over at BEGINNINGS.