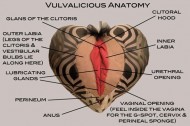 A little more than a month ago we here at EMandLO.com (that'd be me, i.e. Lo, and Em) conducted a poll called "Vulva or Vagina?" Readers had two options to choose from (natch):
Vulva: If we're talking about female external genitalia, this is the anatomically correct and accurate term. (Plus, it sounds nicer.)
Vagina: That's what everyone calls it. It's common practice, common knowledge. Nobody calls it vulva. To do so is pretentious.