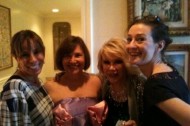 Melissa, Sue (in a Charlize Theron inspired homemade outfit), Joan Rivers and me at Seder
So I had to make (yet another) trip back to Cali last week. But the good news is: it was totally disgusting in NYC and LA was sunny and fab! So there, take that, jet lag! And Karl was cool with it because he got to go. He only farted like twice on the plane, but at least he didn't release the goods — you know, till he got outside. But hey — who am I to judge High Altitude Flatulence?
This time I was out there to shoot a pilot… vaguely along the lines of "speaking truth" — see last week's blog — although not to Foxxy Brown — pretty much everyone else though. But I still can't get over Foxxy. Heh. So while I was out there I chilled with my lil' sis Emily and my big sister Sophie for a night — before heading to (YES THAT'S RIGHT!) Joan Rivers' house for Passover! O hell yes!!!