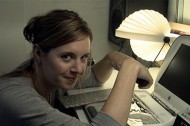 Image from SPARKS
Sundance Channel presents SPARKS, an ALL NEW digital series premiering Monday, August 9th.
Equal parts absurdist comedy, mystery, and documentary, SPARKS is a web-based serial about humans and technology. The story follows 30 year-old Sarah Sparks in her quest to serve the tech-dependent citizenry of New York as a freelance technologist.
Her special "connection" with technology, however, takes her far beyond simple repair jobs, and into both the lives of her clients as well as some of the city's darkest, most chaotic corners.
Filmmakers Annie Howell and Lisa Robinson provided us with this digital exchange.