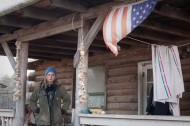 WINTER'S BONE, Grand Jury Prize Winner at the 2010 Sundance Film Festival
Now that Sundance is over, it's time for a little perspective. And critics and industry watchers are only too happy to provide it.
Sure, since the awards were handed out on Saturday night and the festival wrapped on Sunday, there have been the requisite stories about which movies to watch out for and the reports on last-minute acquisitions. (Ten movies were acquired at the festival; in the past few days, Weinstein Co. snagged Derek Cianfrance's BLUE VALENTINE, starring Michelle Williams and Ryan Gosling; IFC Films scored the rights to Michael Winterbottom's THE KILLER INSIDE ME; and Roadside scooped up Debra Granik's WINTER'S BONE, which won the festival's grand jury prize.)
But what lessons can we take away from Sundance 2010?