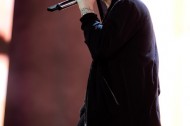 The man of my dreams—Eminem. (Photo by Kevin Mazur/GETTY IMAGES)
I had this crazy dream like a week ago — two of 'em actually. The first one was more of a realization. I woke up in the middle of the night and was like, "Damn. I'm gonna be busy next year… So I better get some traveling in!"
The other one, also random — involved Eminem, of all people. I mean, huh? I don't even listen to or think about him. Must have heard his song somewhere — like the time I was in K-mart and heard a lovely muzak version of Richard Marx's "Ocean's Apart." Had a dream that night that I was at my mom's dinner table introducing Richard Marx as my fiancé. My mother kept looking at his mullet with a hairy eyeball and my sister leans over and says, "Richard? What's your last name again?" and as soon as he says "Marx," I woke up to her mocking laughter in my ears. I didn't go to K-Mart for a long time after that.