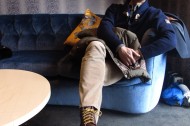 Watch All on the Line with Joe Zee, Fridays at 9:30pm.
Now that you've seen episode one (or see the rebroadcast schedule if you missed it) of what proves to be a very 'real' season of All on the Line with Joe Zee (don't be sad, there are happy endings ahead!), get to know the fashion guru himself, the man behind the big fancy Elle Magazine desk. Joe Zee dishes on his "naughty" childhood and how he survived his days as a starving college student to "work his way into fashion's pantheon."
Here's what Luaine Lee had to say about Joe Zee in "Fashion Guru Joe Zee learned almost everything on the job."..