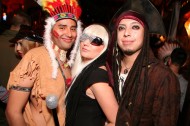 These costumes are perrrrfect. (Photo by Angela Weiss/Getty Images)
Hi. I am Bradford. I am the big homosexual around Sundance Channel. Yes, Sundance hired me to be gay. I write the Homoculture column on the SUNfiltered blog and I am the cofounder of fabulis, a social network of 100K gay men and growing. They made the right decision in hiring me. I don't think there is anyone gayer in this world. Except for maybe Boy George, Johnny Weir, and Liberace. But Liberace's dead, so I'm claiming spot Number #3.
Well enough about me (oh yeah, I bet your best gay friend says that all the time too, and guess what, we don't really mean it). But I do want to talk to you. The fruit fly! The fag hag! The girl at the club dancing in the corner with the sweaty sea of shirtless men. You, honey. We have something to discuss.
A national holiday is before us. Gay Christmas! The one day of the year it is totally acceptable to go to work dressed as Shakira. Or Bea Arthur. Or a fetish cop. Yes, Halloween, Miss Thing!
I know Halloween. And though I look super young (moisturize! moisturize! moisturize!) I have actually seen my fair share of Halloweens. Which is why I come to you, lady, with this list of Halloween Dos & Don'ts from GIRLS WHO LIKE BOYS WHO LIKE BOYS: