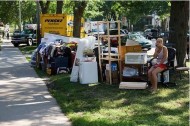 Why Saturday? Because May 15 is now Give Away Your Stuff Day.
The brain child of New Yorker Mike Marone, the event is based on a simple premise:
Many of us own valuable stuff we just don't want anymore. But instead of giving it away or selling it, we allow it to clutter our households and businesses. Billions of great items are just wasting away, taking up space.
Wouldn't it be cool if we could magically shift ownership of this stuff, in one weekend, coast to coast, with zero effort, little time, and at no cost?