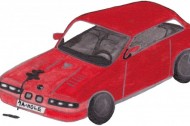 Illustration via ROOKIE MAG
"It's not easy, in this world, to learn how to navigate our anger and attraction, to learn how to be strong, sexual women and kind, gentle men." This is a quote from our friend Michelle Chihara's essay, "Pieces of the Past," published this week on her blog This Blue Angel. On the surface this essay is a response, a clarification of sorts, to an essay the filmmaker Miranda July — Michelle's former high school classmate — published on the teen website Rookie, about what she calls her feminist action, twenty years ago. But at its heart Michelle's essay is about feminism, activism, sympathy, motherhood, adulthood, sex, sexuality… you know, the little things.
Let's rewind a little: Miranda July's essay describes how a boy at their high school made an announcement in assembly: "Someone spilled their Coke on my BMW. If this happens again I'm going to be forced to sue for damages. Keep your hands off my car." In other words, he was a rich asshole — either that or he did a pretty good impression of one.