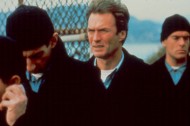 In honor of the upcoming season 2 premiere of RECTIFY — the story of a man set free from jail after twenty years — we're bringing you our Top 10 Movies Set Behind Bars. There are a few surprises on this list, including a vintage screwball comedy, a lot of eggs, Sigourney Weaver with no hair, an anti-James Bond film, and no Shawshank Redemption! Or maybe just a little Shawshank Redemption. You'll have to read and find out for yourself, and vote for your favorite in the poll below. …And by the way, if you're intrigued by these films, you might just be intrigued by RECTIFY (season 2 premiere June 19 at 9pm) — which is brought to you by the same geniuses behind Breaking Bad.
1. Cool Hand Luke (1967)
"What we've got here… is a failure to communicate. Some men, you just can't reach." When a quote takes on a life of its own outside of a movie, that's when you know that you're dealing with a stone-cold classic. And speaking of which… no man can eat fifty eggs. Or can he? Cool Hand Luke isn't just the defining prison movie; it's also a classic of 1960s cinema. Watch Lucas "Luke" Jackson (Paul Newman) struggle with the intense hardships of life on the chain-gang. Can he escape? Can he survive? Can one man actually eat fifty eggs? If you don't know the answers to these questions, then you don't know Cool Hand; so run, don't walk, to see this film, you wild, beautiful thing, you. …You crazy handful of nothin'.
2. The Bridge on the River Kwai (1957)
"Destroy a bridge or destroy yourself" — that's the dilemma posed by The Bridge on the River Kwai. The movie features Alec Guinness, William Holden, and director David Lean — and really, what more do you need to know? Lean's film follows the lives of soldiers in a WWII prisoner-of-war camp, as they are forced by their captors to build a bridge in the middle of the Thai jungle. …To build or not to build? Guinness fights to finish the bridge — believing that doing so will give his men a sense of hope in the middle of a deadly jungle. (On the minus-side, finishing the bridge will also aid the enemy in a time of war.) Meanwhile, Holden struggles just as fiercely to tear the bridge down. Who is right and who is wrong? Big questions, a big, big bridge, and a big, big explosion — it's all in here.