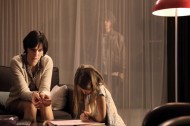 Whether you watched THE RETURNED last winter or caught up more recently on Netflix, you probably still have strong feelings about the younger twin's trustworthiness and the horde's motivations. So which episode is your favorite? Is it the pilot, which singlehandedly reinvents the zombie genre? Or maybe the finale, when a horde of undead face off with the living? Vote in the poll below. Need a refresher? Read on.
Episode 1: Camille
Camille returns home four years after her death. Simon, deceased for ten years, seeks out his fiance Adele. Waitress Lucy is stabbed on her way home, and nurse Julie finds herself with a mysterious child who she names Victor.
Episode 2: Simon
Camille rejoins her family and tries to connect with her now-older twin Lena. Police link Lucy's stabbing to a dormant serial killer. Bar owner Toni is a prime suspect but it's actually his brother Serge, who's returned seven years after Toni murdered him. Adele thinks resurrected Simon seeks is just a vision.